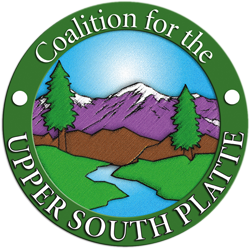 FOR IMMEDIATE RELEASE
July 2, 2018 
COALITION FOR THE UPPER SOUTH PLATTE
Contact:          Jane Mannon
                        719-748-0033
FIRE MITIGATION ALERT
 Lake George, CO, July 2, 2018 – Area fires highlight need for property owners to act to reduce wildfire risk on their property and neighborhoods. Although the majority of the area is outside the immediate risk area from the local fires, the dry fuels created by the prolonged area drought present an extreme wildfire hazard. The Coalition for the Upper South Platte requests that property owners and residents take specific fire mitigation action focused on the home and working outward.
The following steps can help with the impact of wildfire:
     Assure address signs are visible from the end of the driveway, at night and in smoke,
     Clean leaves, twigs, and other debris from roofs and gutters,
     Rake and remove flammable mulch within 10 feet of the structure,
     Trim branches that overhang the home,
     Trim trees 10 feet from ground level within 30 feet of a residence,
     Mow and water lawns,
     Remove vegetation and other combustible materials from around propane tanks,
     Move firewood to at least 100 feet from the structure,
     Identify and mark water sources (cisterns, streams, pools),
     Enclose vents and soffits with 1/18" metal screen or cover with aluminum foil and duct tape,
     Enclose areas under decks, steps, and patios,
     Remove flammable items from the yard (lawn furniture, lawn mowers, gas cans, etc),
     Contact neighbors to plan cooperative mitigation efforts on shared boundaries.
Risk reduction actions you complete now could save your home or life in the case of a wildfire. This just-in-time mitigation will improve your home's chances of survival, reduce potential damage, and provide a safer environment for fire fighters.
The Coalition for the Upper South Platte is available to assist you if you have any questions.  To learn more please contact CUSP @ 719-748-0033.
-END-