South Park Master Leasing Plan
Information Resources and Data Sharing Site
The Purpose of a Master Leasing Plan (MLP) is to provide Bureau of Land Management (BLM) managers a way to strategically plan for oil and gas leasing and development and address potential resource conflicts. MLPs were created to establish a guiding framework for the development of a given area and provide a vision for how future development will occur.
NEW – Click Here for the Eastern Colorado Resource Management Plan website
Scoping Period June 1 – July 31 
* South Park Master Leasing Plan Stakeholder Workshop Final Report
---
Interactive Map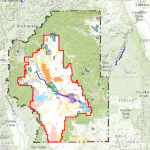 Due to the large amount of data included in this map it may take a while to load.  Please hit continue if asked.
Additional Map Resources
Colorado Oil and Gas Conservation Commission GIS mapping tool
DataBasin – Online mapping tool that provides free and open access to thousands of scientifically-grounded, biological, physical, and socio-economic datasets.
Colorado Wildlife Federation Wildlife Maps created for the South Park MLP
South Park Master Leasing Plan Application Boundary – Important Elk Areas
South Park Master Leasing Plan Application Boundary – Important Raptor Areas
South Park Master Leasing Plan Application Boundary – Important Pronghorn Areas
South Park Master Leasing Plan Application Boundary – Important Mule Deer Areas
South Park Master Leasing Plan Application Boundary – Important Bighorn Sheep Areas
---
Best Management Practice (BMP) Examples
Colorado Parks and Wildlife BMPs
Bureau of Land Management South Park BMP Presentation
Bureau of Land Management BMP Website
Bureau of Land Management Gold Book
Intermountain Oil and Gas BMP Project website
---
Stipulation Examples
Colorado Parks and Wildlife Stipulations for Oil and Gas Development
BLM Royal Gorge Field Office Stipulations
---
Oil and Gas Leasing/Drilling Background Documents
Oil and Gas Meeting, Colorado Oil and Gas Association Presentation
USFS Oil and Gas Leasing Analysis
Colorado Geological Survey's Niobrara Calculation Tool
---
Bureau of Land Management (BLM) Documents or Links of Interest 
South Park Land Tenure Adjustment Environmental Assessment
Reasonable Foreseeable Development Scenario 
BLM Master Leasing Plan Website
---
South Park Water Resource Information
Water Resource Publications for the South Park Area
South Park Groundwater Quality Scoping Study
 2011 Groundwater and Surface Water Monitoring Project
Groundwater Atlas of Colorado  – Colorado Geological Survey
Upper South Platte Basin Round Table Information
South Platte Nonconsumptive Needs Assessment Focus Area: Candidate Environmental and Recreational Focus Areas (Map)
South Platte Nonconsumptive Needs Assessment Focus Areas: Upper South Platte River & its Tributaries in Park County (Table)
---
Regulations
Colorado Oil and Gas Conservation Commission (COGCC) website (click on RULES)
Park County Land Use Regulations (see Division 10)
---
Additional Information and Resources
 Interactive Oil and Gas Spill Map
 Bull Moose Sportsmen's Alliance Study on Spills in Colorado 
The Economic Impacts of Hunting, Fishing and Wildlife Watching in Colorado – 2008 Colorado Parks and Wildlife Report