Job Openings and Paid Internships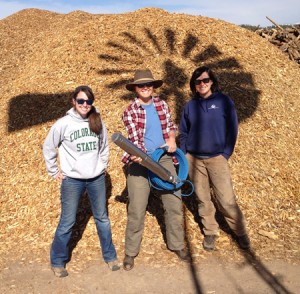 CUSP's strength comes from our people. CUSP would not be where we are today without our passionate and informed staff members. Working for CUSP affords you the opportunity for advancement, professional development, and the chance to really make a difference within the environmental sector of Colorado. As a CUSP team member you will be joining a highly successful and revered Colorado not-for-profit organization working alongside our skilled and dedicated staff and volunteers. We provide competitive wages and some benefits (vacation, holiday, sick, life/disability insurance, matching retirement plan). Advancement opportunities abound for the right individuals.
---
Available Positions: GIS Internship
---
CUSP is currently seeking a GIS intern to help with a variety of data management and mapping projects focused on protecting the water quality of the Upper South Platte. Along with a solid foundation in GIS related coursework, an internship is a must-have in developing strong GIS skills, and CUSP is the place to start. This hands-on internship under direct supervision of CUSP staff, will provide a GIS Intern with the practical experience using GIS techniques and applications they learned in class and apply them in real world scenarios.  At this time, CUSP is looking for the following qualifications and skills:
Required Skills
Strong cartographic skills using ESRI's ArcGIS 10.x software, extensions and tools
Working knowledge of cartographic standards and principles
Strong GIS data editing and database skills using ESRI ArcGIS 10.x software
Experience with Microsoft Word, Excel, Access, Google Earth and ArcGIS online
Strong map/imagery interpretation skills using aerial photography, and topographic, parcel, and subdivision maps
Ability to operate GPS equipment or at least a strong understanding of how they work
Experience creating and maintaining metadata for GIS data layers
Ability to geocode tabular data using ESRI ArcGIS 10.x software
Ability to create tables, charts, and reports in ESRI ArcGIS 10.x software and Microsoft Excel
Effective oral and written communication skills and willingness/ability to ask questions
Strong attention to detail
Ability to understand and follow written and oral instructions, work on several tasks at the same time, and complete tasks effectively amidst frequent distractions and interruptions
Ability to work alone and with others in a busy team environment with minimum supervision, often under deadline pressure
Willingness and ability to travel to CUSP office in Lake George, Colorado
Helpful Skills:
Interest in environmental protection and watershed issues
Experience in geology/environmental studies
Background in environmental or geology education
Hours and Salary:
Internship schedules are flexible (during the 8 – 5, 5-day work week) and the work will take place at the CUSP office
This is a ¾ time to full time position
The salary for this internship position will be between $9 and $12 an hour, depending on experience.
To Apply:
Submit resume and documents in pdf format to jobs@uppersouthplatte.org along with
A list of GIS related coursework completed
Please identify the objective of the course and any projects, papers and presentations completed, along with software utilized in completing the course.
A list of any previous GIS work experience (if applicable)
---
If you are interested in working for CUSP and feel you are qualified for a position not currently posted, we invite you to send a cover letter and your resume by filling out the form below.  Also consider volunteering or interning with us to become more familiar with CUSP.
 Please review the CUSP Master Policy
Coalitions and Collaborative, Inc. is an Equal Opportunity Employer and no otherwise qualified individual shall be subject to discrimination on the basis of race, color, religion or religious affiliation, sex, familial status, age, genetics, disability, or national origin in any phase of employment for this position. Further, the work to be performed under this contract is subject to the requirements of Section 3 of the Housing and Urban Development Act of 1968, as amended, 12 U.S.C. 70u (Section 3) which states that employment and other economic opportunities generated by HUD assistance shall, to the greatest extent feasible, be directed to low and very low-income persons, particularly persons who are recipients of HUD assistance for housing.
---