CUSP is a proud, founding member of the Pikes Peak Fire Learning Network (PPFLN). This collaborative group was established to bring local and regional partners together to collectively identify and implement strategies for the safe, effective and appropriate use of fire for forest management.  You can learn more about PPFLN on their website: http://www.pikespeakfln.org/.
The PPFLN employs a range of treatments and prescriptions for successful forest management and prescribed fire is one of these methods. As cooler and wetter weather conditions allow, preparations and planning are in full swing for local projects.
"Prescribed fire is a highly effective land management tool that can greatly minimize the risk of unnaturally large and damaging wildfires, while improving wildlife habitat and strengthening the health of our landscapes and watersheds," said Jason Lawhon, Fire Manager for the Colorado Nature Conservancy.  "The Fire Learning Network brings together community members and fire and land management professionals to learn from each burn experience."
Starting in mid-October and running through November this year, the Pikes Peak Fire Learning Network is planning two prescribed fire projects in the Woodland Park area at Sourdough and North Catamount. Exact dates of the prescribed burns are weather dependent
The Sourdough prescribed burn will happen over a 14.8 acre area located north of Woodland Park.  It will occur on private property off of Sourdough Road, just south of the Manitou Experimental Forest.  Organized primarily through the Coalition for the Upper South Platte, North East Teller Fire and The Nature Conservancy, the goals of the project are to reduce hazardous fire fuels and increase understory grass and plant recovery after a previous forest thinning project.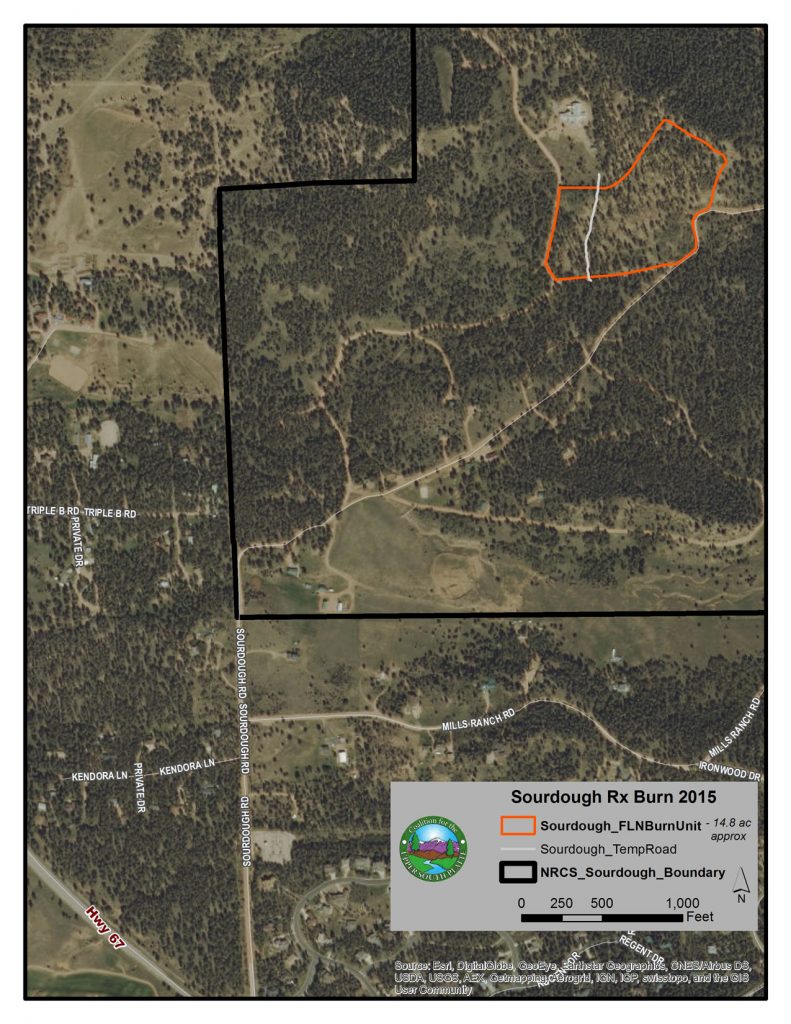 The North Catamount prescribed burn will take place on  105 acres located on the Colorado Springs Utilities' North Slope Watershed near the North Catamount Reservoir.  Colorado Springs Utilities is the lead Network member on this project with goals of protecting water supply and infrastructure in its watersheds as well as improving forest heath and reducing fuels.
The exact burn dates depend on weather and fuel conditions and could conceivably be pushed to a later date in Spring 2017.  There will be 1 to 2 days of burning with crews on the scene for multiple days thereafter, monitoring the project areas until they are completely extinguished. extinguished.
"Without prescribed fire, we as a society cannot hope to achieve the goals of forest resiliency, community protection, and watershed health," said Jonathan Bruno, Chief Operation Officer of the Coalition for the Upper South Platte. "These are all critical to protecting people, property, and ecosystems."
"Over the past 20 years, multiple fuel reduction projects have been completed on the North Slope using hand crews and other mechanical techniques," said Eric Howell, Colorado Springs Utilities Forest Program Manager.  "Over time, however, wildfire conditions have increased. We can help mitigate risks effectively and safely through the implementation of prescribed fire."
Pikes Peak Fire Learning Network is actively working with Colorado Air Pollution and Control Division to manage potential smoke impacts from the burns.  When a controlled burn is implemented, it is conducted under very specific parameters laid out after years of planning.  Daily weather conditions play a key role in whether a burn can be accomplished or not.  The project fire managers will be evaluating conditions and forecasted weather to make the best decision on when to initiate these burns.
PPFLN is working to make sure that community members are kept abreast of information regarding these burns and hope to address any concerns and questions.  Once the exact dates of the burns are known, the media and public will be notified.  Up to date information will also be available through the Pikes Peak Fire Learning Network twitter account, @Pikespeak_FLN with related hashtags, #SourdoughRX and #CatamountRX.