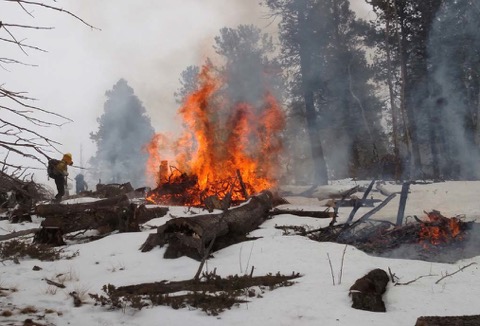 WHAT:The Coalition for the Upper South Platte's (CUSP) certified fuels management crews are scheduled to begin pile burning over the next few months.
Crews will begin burning piles located north of Divide within the Ute Lakes Fishing and Recreation Club and southwest of Woodland Park, off of Arapahoe St.  Burning will only occur as weather and conditions allow.
WHY: As evidenced by recent, devastating wildfires, high intensity wildfire continues to pose a major threat along the Front Range, particularly in the wildland/urban interface (WUI) were development meets the forest.  Proven wildfire mitigation techniques greatly reduce the risk of wildfires to lives and property. Fire is an essential an cost-effective forest health tool. Reducing leftover slash from forest mitigation projects through pile burning is an importation part of reducing the amount of fuel available when a forest fire burns.
PRECAUTIONS: Smoke may be visible on Highway 24, CR 5, Hwy 67, Rampart Range Road and Loy Creek Road. Smoke-sensitive residents should consider staying indoors and keeping doors, windows and outside vents closed.
Prescribed fire smoke may affect your health.
 How to protect your health from wood smoke
Most healthy people have no more than minor and short-term health difficulties with wood smoke. However, excessive smoke can result in unhealthy or hazardous air quality. If smoke is affecting your health, contact your doctor or other health professional. Also, try to move to a place with cleaner air and follow the tips below.
Tips
Close windows and doors and stay indoors. However, do not close up your home tightly if it makes it dangerously warm inside.
Be extra vigilant at night. Nighttime the air is usually more still than during the day and smoke can be worse. Smoke in nighttime air often flows down valleys and settles in low lying areas. Close windows at night.
Filter your air by running your air conditioner or evaporative cooler, but only if the system is filtered. You may also run the fan on your home heating system, with the heat turned off, if the system is filtered. Keep the outdoor air intake closed and be sure the filter is clean. Running these appliances if they are not filtered can make indoor smoke worse.
Use HEPA room air filtration units if you have them.
Avoid exercise or other strenuous activities in heavy smoke.
Do not rely on commercially-available dust masks, which do virtually nothing to filter out the particles and gasses in smoke.
Consider temporarily locating to another area if it is safe to do so. Seek out locations where air is filtered such as malls, movie theaters or recreation centers.
Be prepared to evacuate by planning ahead. Plan your evacuation route and your destination. Put together a kit that contains medications and other important items that you can't be without.
Who is most likely to be affected by smoke?
Elderly people.
Young children (especially under 7).
Pregnant women.
People with pre-existing respiratory or circulatory conditions like asthma, emphysema, chronic obstructive pulmonary disease (COPD) and cardiovascular disease.
People with respiratory infections such as colds or flus.
People with smoke allergies, although this is rare.
What are symptoms related to smoke exposure?
Eye, nose and/or throat irritation–runny eyes and/or nose.
Coughing, sore throat.
Trouble breathing or tightness of the chest, which may be symptoms of a health emergency.
The onset of symptoms related to pre-existing respiratory ailments like asthma or emphysema.
Weakened immune system after prolonged exposure to smoke.
What is the air quality like where I am?
You can refer to the chart below and estimate the visibility in smoky air to come up with a corresponding air quality category based on the federal Air Quality Index.
| | |
| --- | --- |
| Air Quality Index | Visibility |
| Good | 10 or more miles |
| Moderate | 5 – 10 miles |
| Unhealthy for Sensitive Groups | 3 – 5 miles |
| Unhealthy | 1.5 – 3 miles |
| Very Unhealthy | 1 – 1.5 miles |
| Hazardous | less than 1 mile |