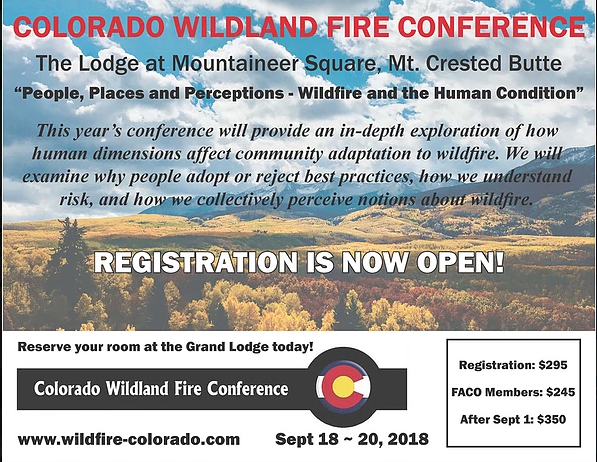 Colorado Wildland Fire Conference 
September 18-20, 2018
People, Places, and Perceptions – Wildfire and the Human Condition
Location:
The Lodge at Mountaineer Square,
620 Gothic Road,
Mt. Crested Butte, CO
About the conference:
This year's conference will provide an in-depth exploration of how human dimensions affect community adaptation to wildfire. We'll examine why people adopt or reject best practices, how we understand risk, and how we collectively perceive notions about wildfire. The conference will offer a suite of learning opportunities including – keynote speakers, networking events and workshops, panel discussions, break-out sessions, and social gatherings.
SPEAKERS AND SCHEDULE can be found HERE.
SCHOLARSHIPS now available!  Fire Adapted Colorado is offering a limited number of scholarships to cover registration. Find out more and apply HERE! Due August 6th.
COST: Early registration = $295;  Early Registration ENDS August 31st. FACO Member registration = $245; Late registration = $350.  Register HERE.
LODGING: Special rates for conference attendees at various area hotels, click HERE for more info. We recommend you CALL to reserve your room! Call BEFORE August 18th for the special conference rate.
DINNER AND LIVE MUSIC: Featuring the band Hardscrabble at the Ten Peaks venue above Crested Butte, September 19, 2018
LOOKING FOR MORE? See this video about places to go and things to do in Crested Butte!
See you there in September!!