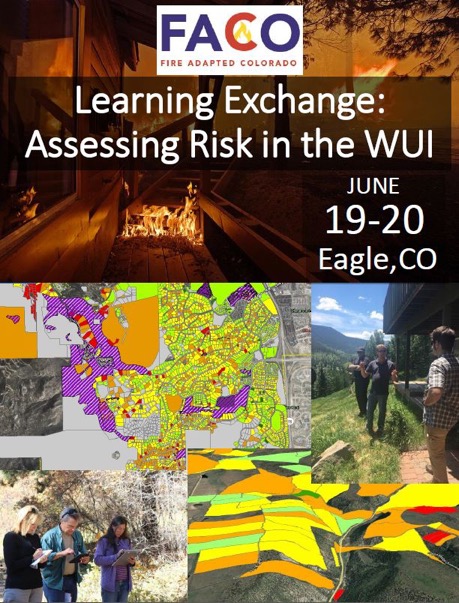 Sign up now for next week's FACO Learning Exchange
What: A two-day learning exchange focused on sharing principles, techniques, strategies and BMP's for the collection, management and sharing of wildfire risk information.
Who: Professionals involved with wildfire adaptation within their community(ies). Space is limited and preference is given to FACO Core Members and Affiliates.
When: June 19 (11am- 5pm) and June 20 (8am to 12pm)
Where: Eagle County Emergency Operations Center –500 Broadway, Eagle, CO
Cost: FREE for a limited number of participants.
Lodging and Food: FACO will be offering a limited number of hotel rooms (evening of June 19th only). Lunch and dinner will be provided on June 19th.
Please visit the link below for more information on lodging.
More Information: https://fireadaptedco.org/events-across-the-state/
Questions? Contact Jamie Gomez at 970-765-0534/ wrwc.coordinator@gmail.com or
Eric Lovgrenat 970-328-8742/ Eric.Lovgren@eaglecounty.us